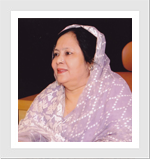 Sultana Hashem
Chairperson
"We emphasize the need to expand our base, add value, be competitive and value-driven, among other things."
Our key concept – More diversity for more strength – is not only aimed at expanding the PARTEX industrial base, but also applies to our recent initiative for a new identity – an internal reorientation that takes the form of PARTEX STAR GROUP. Our spirit and ethos elevates to a new height to proclaim our core concept- "Living a legacy, presenting a new face forward."
It's indeed an achievement that within our lifetime, we are witnessing our humble beginning made years ago shaping up to an epic proportion in respect to the nation's yield in industrial development encapsulated almost totally in the private sector. The journey was not easy. Perseverance combined with high ambitions and undaunted struggle drove us forward through the years. The bright prospect of a brand new genre is here because we were there.
We are about to enter an era of global competition where Bangladesh is increasingly getting involved in the arena of world trade and commerce. We have a special emphasis on the need to expand our base, add value to our products and services, be more competitive, be value driven and environment compliant, embarking on improving HR protocols, be technologically sound, financially stronger and logistically advanced.
The efforts for our renewed pledge and provisions under the new PARTEX STAR GROUP identity will be dedicated to sharpen our edge in this age of global market place in keeping with the ever increasing pace. Our present actions will largely determine the future of this Group that boasts a long heritage.
May the Almighty bestow upon us the mercy and kindness for the PARTEX STAR GROUP family to face any odds and obstacles and realizing a dream of transforming Bangladesh into a smiling nation for ages to come