Managing Director's Profile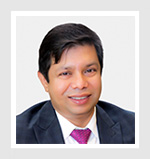 Mr. Aziz Al Mahmood
Managing Director
Aziz Al Mahmood completed his graduation from the US International University, based in London. Mr. Mahmood joined Partex Star Group at an early age.
With his inherent quality of leadership and pragmatic outlook, he became one of the Group's board of directors within a very short time. He played a vital role in incorporating the information technology that made the group's activities prompt and easier. It entirely changed the traditional mode of production, trading, export and internal communication system.
He also involved himself in the Group's functional, productive and financial streams. Mr. Aziz Al Mahmood's diverse leadership qualities as Managing Director of Partex Star Group's Key units have made all the limited companies profitable. The units include
Danish Condensed Milk Bangladesh Ltd.
Danish Milk (BD) Ltd.
Danish Foods Ltd.
Danish Distribution Network Ltd.
Rubel Steel Mills Ltd.
Danish Dairy Firm Ltd.
As a Director, his area of leadership is utilized in some of the group's vital units like
Star Particle Board Mills Ltd.
Corvee Maritime Ltd.
Partex Furniture Industries Ltd.
Partex laminates Ltd.
Ferrotechnic Ltd.
Mr. Mahmood is the Director of the City Bank Limited and Phoenix Insurance Company Ltd. He is also actively engaged with number social philanthropic and charitable institutions.